Thank you to everyone who entered. There were many superb entries. Here are our winners.
Two in particular were very popular and took out our top two prizes.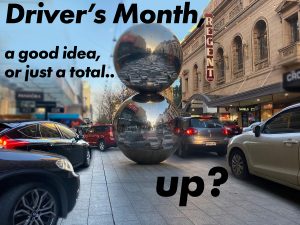 Congratulations to Andrew for the exceptional detail and concept. Although it is a struggle now to convince people that pedestrian only areas are good for the city there would be outrage if cars were allowed back into Rundle Mall. Rundle Mall used to look just like this (but with more vintage cars). Andrew takes home a $100 voucher to BMCR.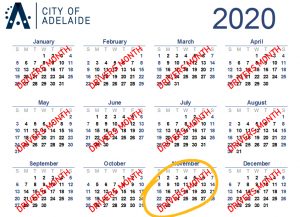 Martin's entry was bang on – "Don't forget to mark Driver's Month in your calendar, it's difficult to distinguish from business as usual here…" There is no innovation in the concept of Driver's Month. Car's are given the majority of public space in the city, every month. Martin has asked us to purchase $100 worth of suspended coffees @XPRESS-) on Flinders Cafe for those who need a hand up during these tough times.
It was a three way tie for third.
Congratulations to Shane, Lee-Anne and Andi – each winning a $50 voucher to a city business of their choice (Bike Express, The Foodprint Experience, and Cafe Brunelli) – Enjoy!
Thank you to everyone who entered. As a result we are proudly injecting $350 into the City economy. Yes a green, healthy and fun people oriented city can also be good for business 🙂
As for Driver's month we can confirm it will be held in November. Everyone walking, riding and catching public transport to the city during Driver's Month is encouraged to talk with businesses about how you got there – let them know you are one of the 64% of people who DO NOT DRIVE to the city and that you too deserve to be looked after by the City Council.
More to come including our plans for a post Driver's Month Party!
Keep riding!