The PortBUG recently met with Gemma Kernich, Unit Manager – Infrastructure, Planning & Investment Section, DPTI. We had asked Gemma to provide important updates on some of the projects and issues that we've been focussing on over the last few months – notably:
The Hart Street Project: Work has started with replacement of lighting fixtures being the first step. Speed limits will be reduced from 60 to 50km/h and the current 4 lanes will be reduced to 2. Bike lanes will be installed with the west-bound being 'protected' behind a car-parking zone. Many new trees will be planted (by Council). There will be a major safety upgrade of the Carlisle Street intersection to reduce crossing distances for everyone. The work will take~3 months.
Port Expressway Bikeway: An off-road and fully separated off-road bikeway will be built to parallel the Port Expressway (the PREXY) on its Northern side. The path will run from east of theEastern Parade Bridge as far as the PREXY/Northern Connector intersection (at the junction with South Road). Bikes will eventually be banned from the PREXY (they are currently only allowed between Port Adelaide and Hanson Rd) as per other motorways/freeways with separated paths. This project has been included as an approved scope extension within the existingFederal funding allocation for the Northern Connector project (the Bikeway will be constructed by the Northern Connector Consortium). The main aims of this project are improved cyclist safety and accessibility and linking to the future Northern Connector and the existing Superway bikeways. The Port Expressway Bikeway will likely be built towards the end of the NorthernConnector Project (route is currently use as a heavy vehicle 'haul way').
Northern Connector: The PREXY Bikeway will pass under the Northern Connector's approach ramp to the PREXY. The pathway will then join with both the Northern Connector Bikeway (coming in from the North) and a culvert underpass under the PREXY. The latter will connect with the Gawler Greenway.
The Port Wakefield Road/Dry Creek Underpass (flooding issues): Responsibility for resolving the current tidal inundation issues lies entirely withSalisbury Council (who are responsible for the underpass design issues). Pathway users are warned about the dangers of collision with mullet and the occasional crab 😉!
The Gawler Greenway: The Gawler Greenway route is now more or less determined between the CBD and Mawson Lakes/junction with the Little Para Bikeway. The route will utilize Davenport Tce + shared path to Islington Railway Station (or alternate connection via Pym St and Janice Jensen Reserve), north of which is a proposed new extension via an off-road path along Regency Rd and thence to Narweena Drive for a substantial portion of its length. It will make use of some SA Water reserve as well. The bikeway will be constructed by DPTI but an in-kind will be needed by PA/E Council (principally a new footpath along Narweena Drive) and to ensure their long-term custody and maintenance of the asset. A link will also proceed underthe PREXY (existing culvert) to connect to the Northern Connector Bikewaywith contracts for construction already in place.
Completion of the Outer Harbour Greenway: The final section to be opened on the OHG is between the new Chief Street Bridge and the East/Drayton Street junction – a distance of about 150 metres. This section of off-road pathway will be built by DPTI (and may also involve further modifications to a short section of Drayton Street). Construction of this final section of pathway may take some time as several development approvals are involved dealing with heritage and site contamination issues. There has been some delay in completing the overpass at South Road, due it appears to the use of heritage brick facing utilising lime mortar (only 6 courses can be built at a time). The overpass is expected to open at the end of July.
Nelson St/St Vincent St Intersection (Pt Adelaide): The space taken up by this intersection is acknowledged as substantial. Improved traffic movement and bike/ped access will really require consideration of overall traffic management and movement studies for the entire PA Centre (including the impact of the Port Dock RS and Starfish Housing developments). Such a study would need to be 'driven' by the PA/E Council. Note: It has been previously suggested that some sort of cyclist-controlled push button crossing and turn facility be installed at this junction to facilitate safer cyclist right-hand turns onto Nelson St. In a subsequent update provided by Gemma she stated: "The bicycle button and lantern to turn from St Vincent St to Nelson St are installed but not yet commissioned!  They are located so cyclists travelling west and turning into Nelson St (and across the Birkenhead Bridge) can stop outside the church and press a button." [see below]…     To the right there is a special bicycle lantern [see below]. Once it goes green you can turn right with no other traffic. Installed but 'bagged off'. This should be commissioned shortly." It's a bit unclear how this right-turn will operate – the PortBUG will evaluate it as soon as it is operational!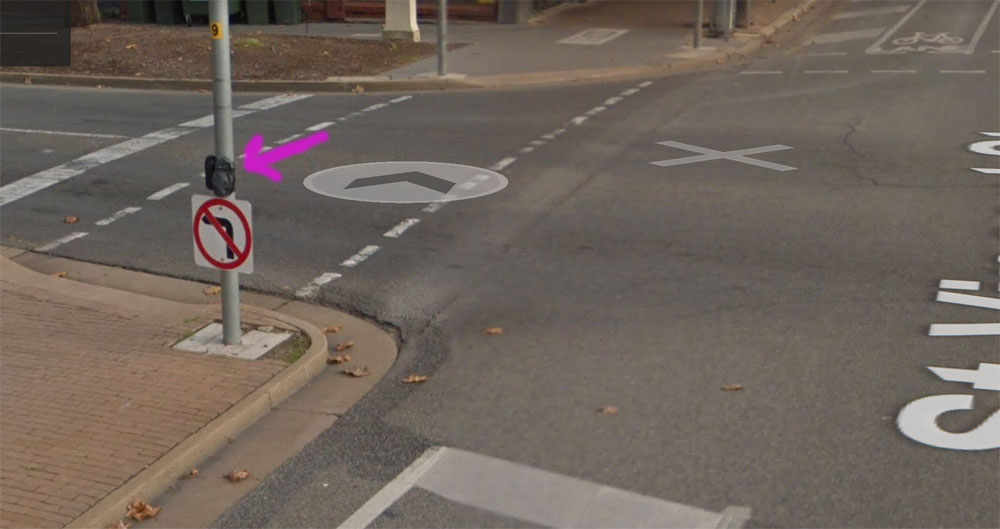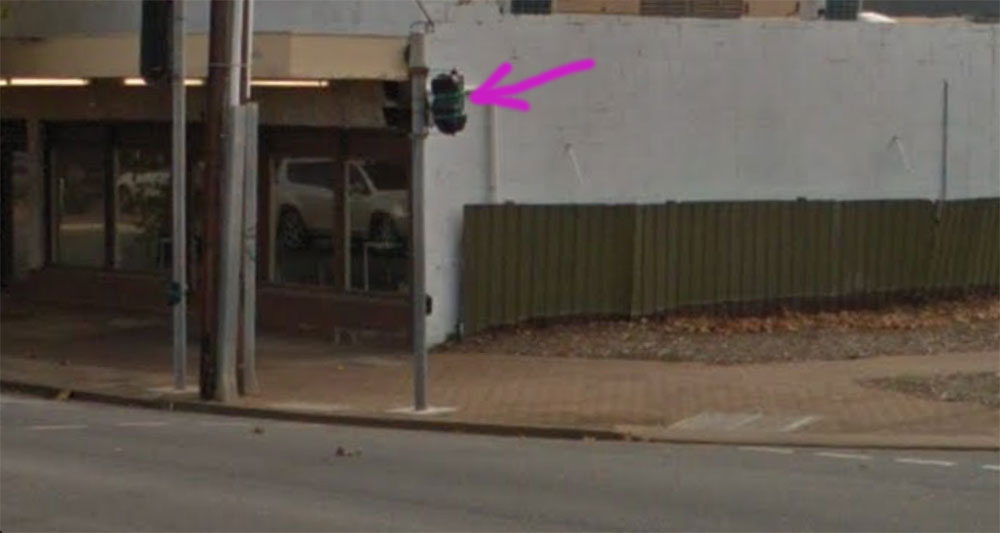 Prospects for a new State Cycling Strategy: This would now be the responsibility of DPTI's 'Moving People' section.
Cycle Park 'n Ride: Several new (6 or 7) clusters of bike parking rails have been installed by the City of Charles Sturt on the Outer Harbour Line (at each station location & on both sides of the tracks). Similar installations are proposed for the PA/E Council area with some funding from Council. Locations will shortly be open for public consultation! Secure bike parking enclosures are currently being constructed at the Entertainment Centre Tram Station & Klemzig OBahn Interchange. A secure parking enclosure may also be installed at Woodville RS (when funding is available) and at the new Port Dock Station when it is completed.
Closures on the Torrens Linear Path: It was noted by PortBUG members that there are currently 3 closures on the Linear Path to the west of Adelaide. Discussion identified a lack of information as to exactly what structure the T2T project will be building at the recently announced closure under South Road. The PortBUG will follow this issue up as the current structure seems quite unsafe and needing considerable improvement rather than simple modification!
Courtesy the PortBUG: More details of all of these projects will be posted as they become available. If you are on facebook, please consider following our facebook group (the Port Adelaide Bicycle Forum) for more frequent updates and opportunities to provide us with your own views and experiences!