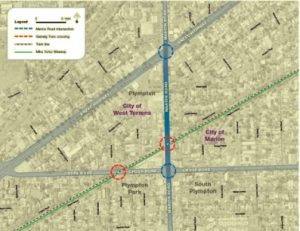 DPTI are looking at "grade separation of Marion Road from the intersection of Anzac Highway to Cross Road, grade separation of Marion Road from the tramline to Cross Road and a tramline overpass of Marion Road and Cross Road" See here.
The Federal government has chipped in $2m just for the study.  Judging by past expenditure, we expect that building the flyovers  will cost three to five hundred million dollars – more than has been spent cycling infrastructure over the last 50 years.  And while it might relieve a bottleneck, the project would also induce more traffic on the roads, creating congestion elsewhere.  And creating a more intimidating environment for cycling.
Accepting that the politicians are determined to do a silly thing, we have ideas about how it could be done in the most sensible way.  See our comments on the study here.
You can provide comments by using this link.