BISA was excited to attend a Cycle Tourism industry development workshop at Seppeltsfield Winery in October, thank you to the Department of Industry and Skills and their ongoing Bike Economy Project. The invitation presented an excellent opportunity for a 2 day cycling adventure for Katie (Chair) and Brian (Secretary) through the Barossa beginning on Day 1 with a train trip to Gawler. Our bikes were thrilled to have plenty of buddies for the trip.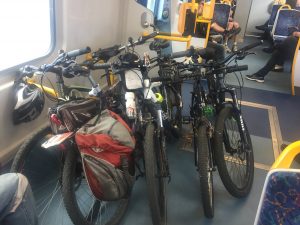 From the train we tackled the steep hill up Calton Rd to find the Jack Bobridge trail, a trail connecting Gawler (almost) to Angaston.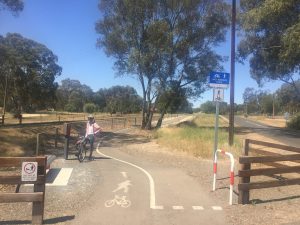 After a rocky start….
We had a beautiful ride through gardens and towns
And found Bike Friendly Barossa
Before coming to the amazing Seppeltsfield Rd palms and family mausoleum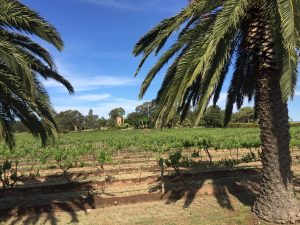 For now Seppeltsfield Rd is quiet and easy to ride but there are plans afoot. Excitingly construction has started on a bikeway through the vineyards on Seppeltsfield Road, to connect Tanunda to Seppeltsfield Winery before continuing to Greenock, Kapunda and the Clare Valley.
After a lovely days ride we found our accommodation for the night and a friendly welcoming party at Seppelts View Cabins
For dinner and wine it was a cruisy back streets ride to the popular small family run Greenock Hotel.
Dinner was a phone free affair so no pictures alas, however the ride there was possibly one of the most beautiful with the sun dropping on the valley's rolling hills. The pub had a great friendly local vibe and the ride home too was an adventure, filled with starry skies.
Day 2 – Brian took to the bike for route reconnaissance and started his long ride home to Adelaide through the Adelaide Hills via Steingarten Vineyard lookout, Mt Crawford, Gumeracha, and the steep slopes of our own "Little Italy".
A short ride brought Katie to Seppeltsfield Winery, excited to meet others and talk about the potential to build cycle tourism in SA.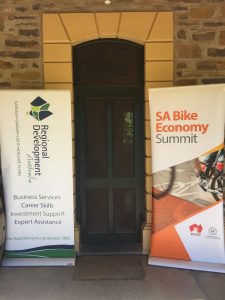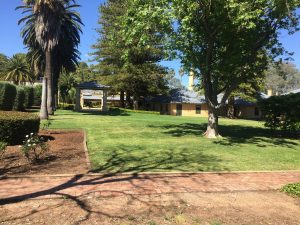 The Cycle Tourism development workshop was hosted by the Barossa RDA and the Department of Industry and Skills. The workshop brought together a variety of stakeholders to work together to enhance South Australia's cycle tourism offerings. Attendees were asked to:
Share our knowledge about cycle tourists to help build a picture of the key markets in SA;
Discuss how to support better, more coordinated marketing of cycle tourism in SA to enable SA to compete in a tough global marketplace.
Identify gaps in SA's cycling network and work together to prioritise and coordinate action to address them (a personal favourite)
One of the attendees runs Barossa Bike Hire, and had bikes available for hire at Seppeltsfield Winery. Over the Edge Melrose sports and Escape Goat adventures/Bike about also came along, joining tourism and economic development staff from various Councils, as well as staff from SA Tourism and National Parks.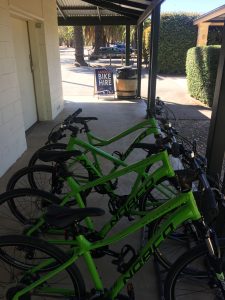 From the workshop it was clear:
There are many people across SA enthusiastic about the potential to build the cycle tourism industry in SA.
The SA Bike Economy Team are driving coordinated industry action across the state however they need leadership and involvement from businesses, Local Councils, advocacy groups and riders. BISA looks forward to continuing to support their exemplary work.
Everyday SA riders and businesses involved in tourism have the greatest knowledge of opportunities to encourage cycle tourism in the state (through route development and infrastructure). Those involved in tourism can sell a product but don't have the knowledge to build the product (cycle routes, signage etc). That is where we see BISA and our members could greatly assist. At the workshop the route for the Great Southern Bike Trail was discussed, (as were all our other dream cycle tourism routes). BISA is working to support SA Tourism with route development.
Ok enough talk – back on the bike. Following back streets to Lyndoch Katie re-joined the Jack Bodbridge Trail. Stopping for a drink along the way, she only just managed to resist a cocktail with these lovely folk.
Back to Gawler and on the train to Mawson Lakes Katie refuelled with tasty Indian treats before riding the last leg home.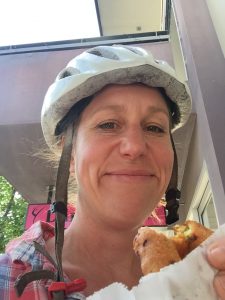 What a fabulous couple of days.
Loving life in SA 🙂